Last night we tried a new-to-us place in Piedmont: Baywolf. It's been around for over twenty years, and on our list for at least a couple, so it was high time.
I think they are going for mediterranean food, although if you hadn't told me that I would have guessed it was just the usual worldly Californian that you see so much around here. I liked the way the restaurant was set up: An old, many-times-refurbished craftsman house with a modern, enclosed deck added to the front for extra seating. Although we sat inside, the deck looked and felt really pleasant.
We started with a grapefruit, avocado, and mango salad with miscellaneous greens that seemed to be spinach and arugula. It was my least favorite dish of the night, mostly because it had this creamy cumin dressing that totally dominated the way everything tasted in my mouth. I get the combination of avocado with cumin, but the sourness of the grapefruit and mango just couldn't stand up to the aroma.
We also had "duck liver flan" which as far as I could tell was purely a euphemism for foie gras. It was delicious as usual, and served with a nice selection of little pickled this and that (cornichons, shallots, olives).
For the main course, we shared roasted duck with peas, fava beans, artichokes and pancetta. This was the star of the night for me: the duck was perfectly rare in the middle, with a nice crusty coating of fat on top, and the rich, mild combination of vegetables and pancetta was a great accompaniment.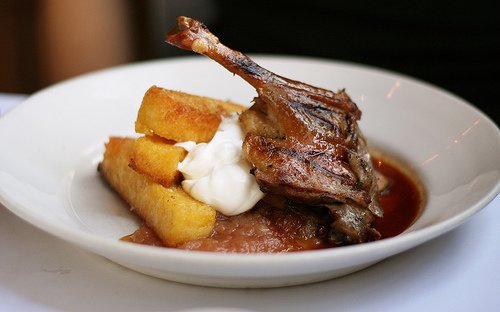 (Not my picture; taken by Flem J. off Yelp, and of a slightly different duck dish. But that's what the duck looked like).
We also had the Bomba di polenta: polenta layered with short ribs and fava bean greens. The flavor base of this was wonderful, with a great pan sauce covering the plate and smothering some random mushrooms (shitake, and even a few errant chantarelle chunks). The main event though was kind of disappointing: the polenta cakes were all chewy at the edges and I could barely find any trace of the short ribs (though the chunks I did find were darn tasty).
Overall, I'd eat there again, but not before we get through a few more of the east bay places on our list.