A quarter century. And I'm still in no danger of being grown up anytime soon. Heck, I'm still in school. This is the life. Friday I had a merged birthday with Haley, a friend from Berkeley who happens to share a birthday in the "everyone's already home for Thanksgiving" danger zone. It was cool–we started out in a nice Chinese place (I hardly ever eat Chinese these days for some reason), then moved on to Spats for board games. Then we moved on back to my apartment with Doug, Phil, and Nelson in tow for some "Mario Party 7." Yes, seven. I am vaguely aware that they keep making this game, continually feeding their party game base, but attaching a number greater than three to a game requires Final Fantasy-like hubris. I suppose if anyone can do that it's Nintendo on their own platform.
Another awesome gift, from Jeff: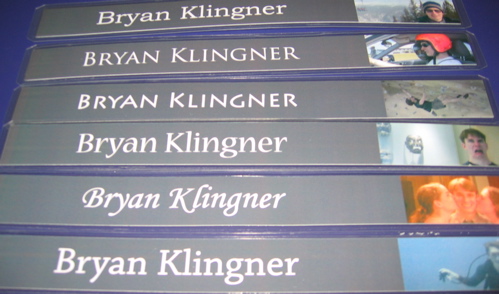 They are doortags for my office at Berkeley. Each one has velcro on the back for easy swapping based on mood or season. They are so cool!
On Saturday I had a celebration with Leslie. She laid out a plan for the whole day, kicking things off with a matinee of the new Harry Potter movie, which I was quite entertained by–I've managed not to become jaded by special effects some how, and appreciate them more than ever when they're done well or at least to good cinematic effect, which they certainly were for the movie. Then we went to a cool new bar downtown called Beckett's for some Boddington's, then finally on to a swanky new restaurant in down town called (appropriately) Downtown. We had some absurdly good pork short ribs and salmon, along with some awesome Hefewiesen, and rounded things out with ginger-pear shortcake. Mmm.
This morning I'm off to Texas. It'll be my first time back in Austin since May of 2004–that's my longest time away ever. I'm sure it still has it's old charm.