We got into Dresden yesterday afternoon via the D-Bahn (a fast train system inside Germany and nearby countries). Cousin Michael met us at the platform and we took the tram and walked back to his place. The cool thing about Dresden at the moment is the Bunte Republik Neustadt festival, which as far as I can tell converts the entirety of the Neustadt ("new city") section of dresden into one continuous party. Still no pics of our own, but here is someone elses to give you a bit of an idea: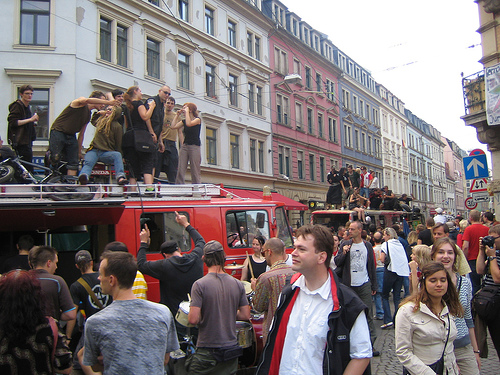 You can see some more here. So we walked through some of the setup of the party, dumped our stuff at Michael's flat, then hit the best biergarten we've been to so far by a long shot. It's one of the three original breweries that have been here for hundreds of years, called Waldschloesschen. We ordered big beers (half a liter) but our waitress goaded Michael and I to upgrade to the 1 liter stein, which turned out to be a great way to kick off the night. The food was awesome… a giant roasted chunk of pig (I think a knuckle?), potatoes, and as always, cabbage. Then we walked through the now-blossoming party, put sick Leslie to bed, then had a couple of more beers out on the street as we looked to meet up with some of Michael's friends. We did about midnight, and I called it a day and crashed back at his place.
Now I'm up, but no one else is, so I figured out how to get the wireless key for the network here and now I have sweet, sweet high-speed bliss. Maybe once Les wakes up I'll try to get some few first pictures uploaded, assuming we brought the right cable with us.