During the Great Austin Snowpocalypse earlier this year, we lost power at our house for several days. It got really cold (single digits) during this time, and even though our house has gas heat, we couldn't use it because we had no electricity to run the furnace blower / air handler fan. So, it got colder and colder in our house until we had to leave to stay with family who still had power and heat.
During the cold, I had a friend who managed to jury-rig the output from his solar panels to run his furnace blower during the day, keeping his house warm. It got me thinking that I really didn't need much power to keep our house livable. A small gasoline generator would probably do the job. But the idea of running an extension cord from outside into the house and into the attic to hot-wire my furnace blower didn't sound great.
Through some research, I learned of the existence of load transfer switches, which let you place some or all of your home's electrical circuits on generator power in the event of a power failure. This sounded like the perfect low-cost solution to make the house livable for a day or two in the event of another extended power outage. Here's how I went about it.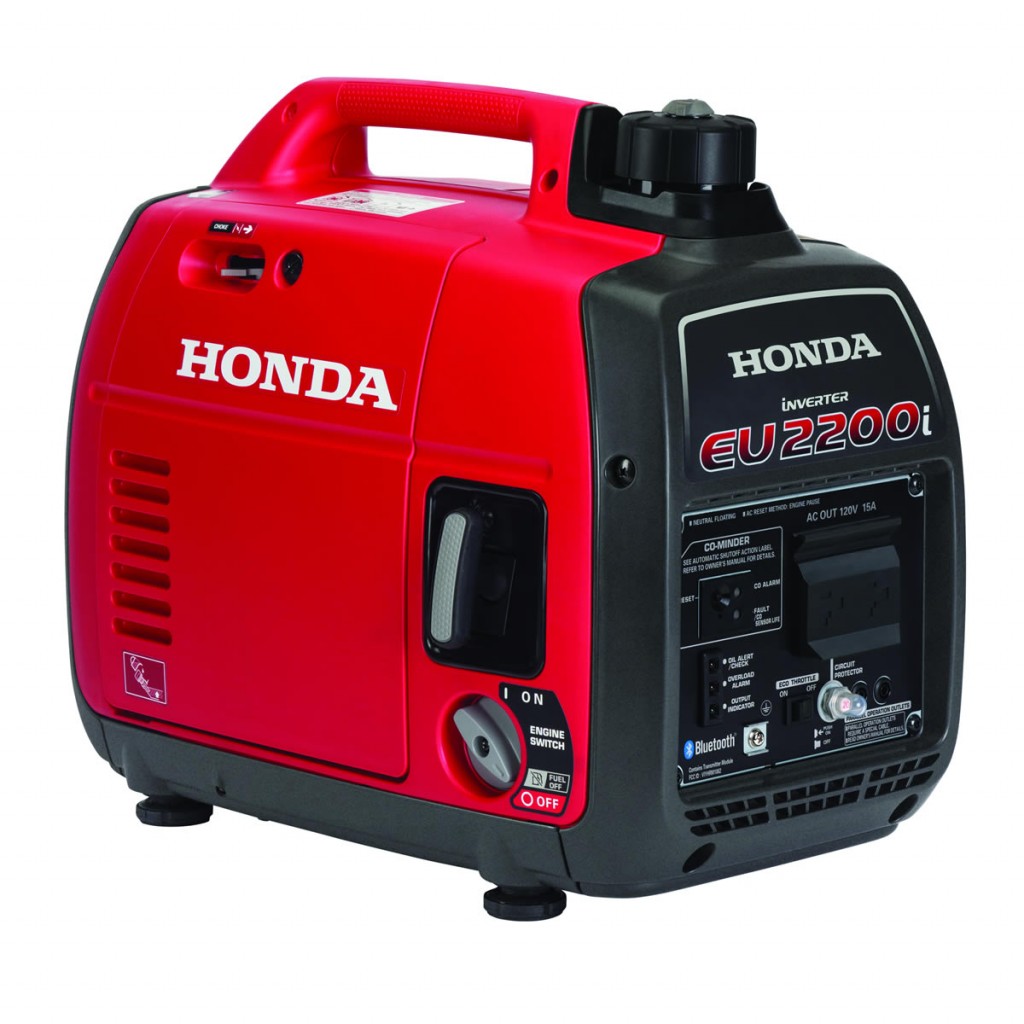 My goal was to provide 24-48 hours of backup power for critical systems. I decided to go with a small, quiet gasoline generator from Honda. Why?
There are a lot of "battery generators" on the market now that use lithium-ion batteries to provide up to a couple of thousand watts of power, but at this output, they last only a few hours at most. You can go crazy and get something like a Tesla Powerwall for bigger energy storage capacity, but this will be a major installation and set you back tens of thousands of dollars. The energy density and cost of batteries just can't compete practically with fossil fuels, and for a once-in-ten-years emergency power backup, I figure it's okay to go with internal combustion.
The Honda generator doesn't look great on paper next other options. For one, it only supplies 1800 watts of power. But, this is plenty for me to run my furnace blower, refrigerator, internet/wifi equipment, TV, and a few lights and outlets. The only major additional thing we might consider is the AC compressor, but this alone consumes more than 3000 watts and would take us into another realm of size, noise, etc. And it's hard to see air conditioning as a critical system we couldn't live without for a few day. The Honda is also only 120V (single phase), so you can't use it to power any other 240V loads like an electric oven or dryer.
The Honda only runs on gasoline, while many competing options will also run on propane or even natural gas. Assuming our gas service was uninterrupted, that could mean endless generator backup time! But I have no outdoor gas outlets, nor a gas grill that gives me any other reason to keep propane around, and gasoline is the most energy dense of these fuels.
The number one thing that drew me to the Honda is its outstanding reputation for reliability: it will start up when you need it to. When reading about cheaper Chinese options, there were always concerns about reliability, especially when the generator spends most of its time sitting in storage. It also has a mode to run it just until the carburetor and fuel lines are empty of fuel, which does a lot to reduce gummed-up lines that may threaten reliability. Finally, the Honda is really really quiet, so much so that I would not feel bad running it in my urban neighborhood for two days.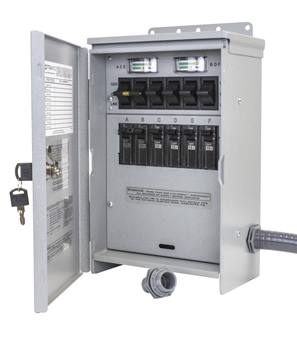 There are a lot of options to consider when choosing a transfer switch. They range from manual switches controlling a single load to whole-house, automatic switches that are intended for big diesel generators.
Because I have no permanent backup generator installed, a manual switch was the obvious choice. Reliance Controls seems to be one of a few big players in this market. I chose the R306A because:
It's outdoor rated, and my service panel is outdoors.
It has enough circuits for my use case (6).
(this is big) It comes pre-wired with a NEMA power inlet, breakers and all the wiring you need to install it on your service panel (see below).
Installation and testing
Armed with my generator and load transfer switch, all I needed was to find an electrician to do the installation for me. Online research indicated I should expect to spend about $200-300 to get this done. In reality, I got two quotes for this work, with one coming in at $1200 and the other at $1600, for something like 5-6 hours of work. Which was just too much for me to stomach. What to do?
It turns out that Reliance Controls has a really nice YouTube video series explaining how to install their transfer switches. After watching them, I felt pretty confident I could handle the install myself. Let me say that of course you should not even consider going near your electrical service panel or even giving it a lusty glance. Leave that up to highly trained and paid electrical professionals, OF COURSE. But maybe, just maybe, imagine that in a parallel universe, I did install my own load transfer switch by following Youtube videos. How would it have gone?
It actually took me less than an hour start to finish, including time to test that the switch worked properly with my generator. The great thing about the pre-wired switch was that it comes with exactly the wires you need to introduce the loop between your circuits and the electrical service that passes through the transfer switch. You don't have to touch anything inside the switch, just pull out the load wires from your breakers and use wire nuts to patch them out–see the videos for details.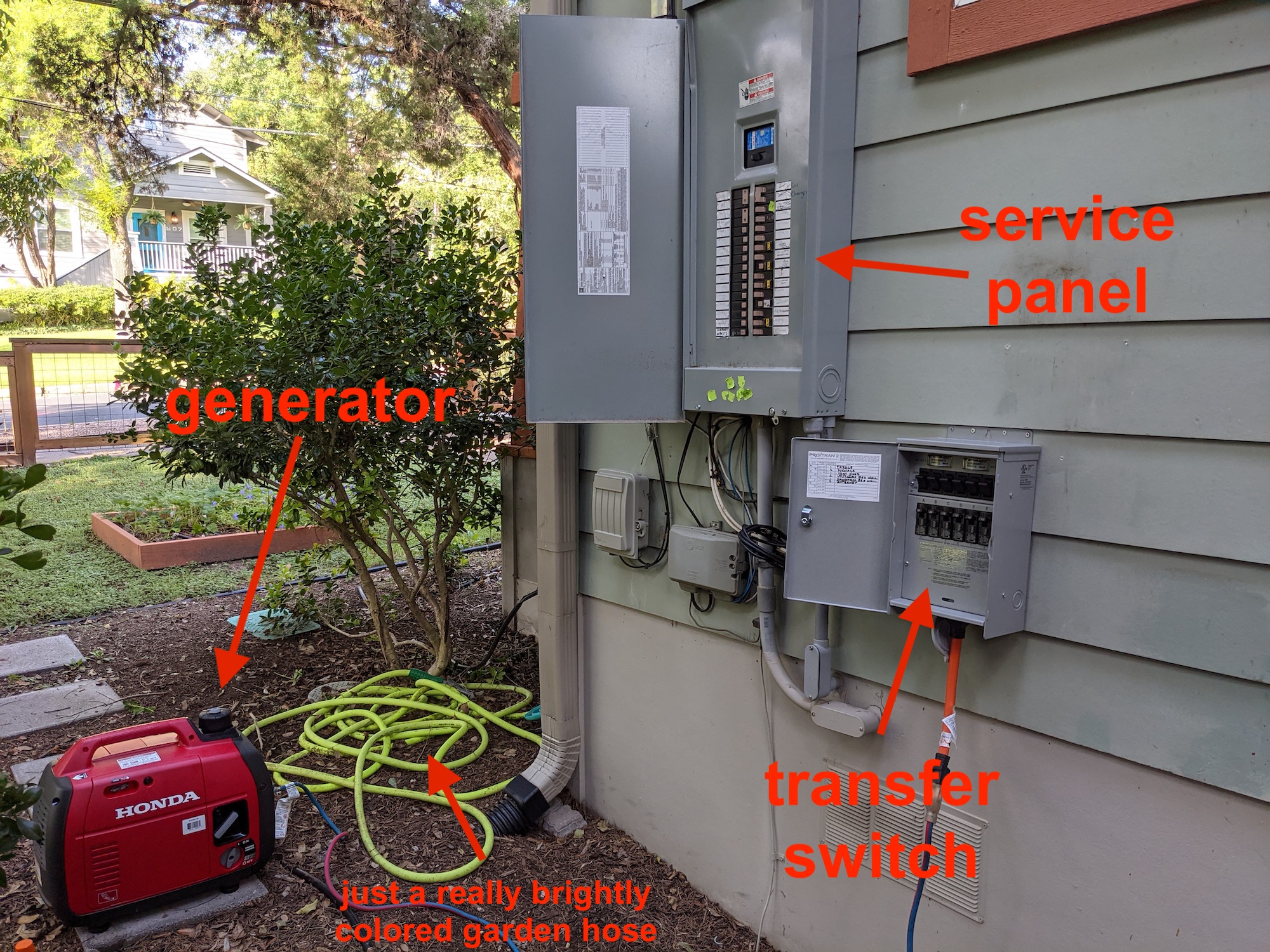 After getting the switch installed, I plugged the Honda in using a household 15-amp  to L14-30 NEMA adapter, and shut off the city power service to the house entirely. I started up the generator, and turned on my heater.
Here's the generator app reporting power load with my refrigerator, TV, internet, lights, and heater all running. About 800 watts steady. No sweat!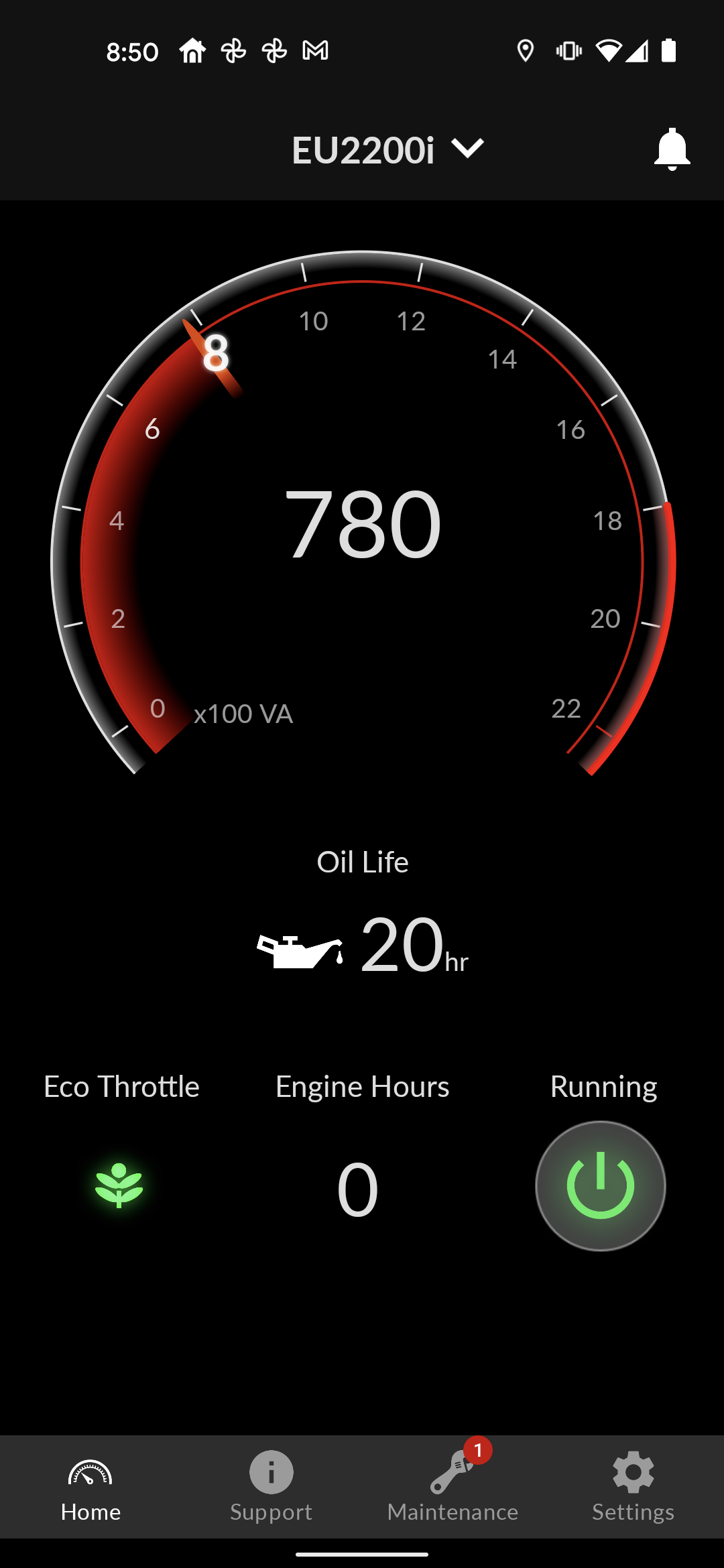 Maintenance / disaster prep
Armed with the knowledge that my setup would work today, I wanted to take a little care that it would work in the event of an emergency when it might be hard to find gasoline, motor oil, etc. So I laid in a supply of gas in a separate tank, and put fuel stabilizer in it that is meant to last a year. I set a reminder to start up the generator once per quarter and run it under load. I set another reminder to replace my gasoline once per year (I guess I'll just pour the old gas it into the CR-V)
In all, this project set me back about $1600 plus a few hours of research and lots of time waiting on electrical bids that did not satisfy. What I get is ~2 days of heat, refrigeration, and internet for the next snowpocalypse. Not bad, I'd say!