Sometime around April of 2017, before Paul was even a year old, we bought a B.O.B. Revolution Flex Duallie Stroller on the recommendation of a neighbor. It was tough and great for running, he said. And so began an intense, four-and-a-half year relationship that would cover (by my rough estimate) between 1500 and 2000 miles of strolling.
Here's the first picture I could find of the stroller, from late April 2017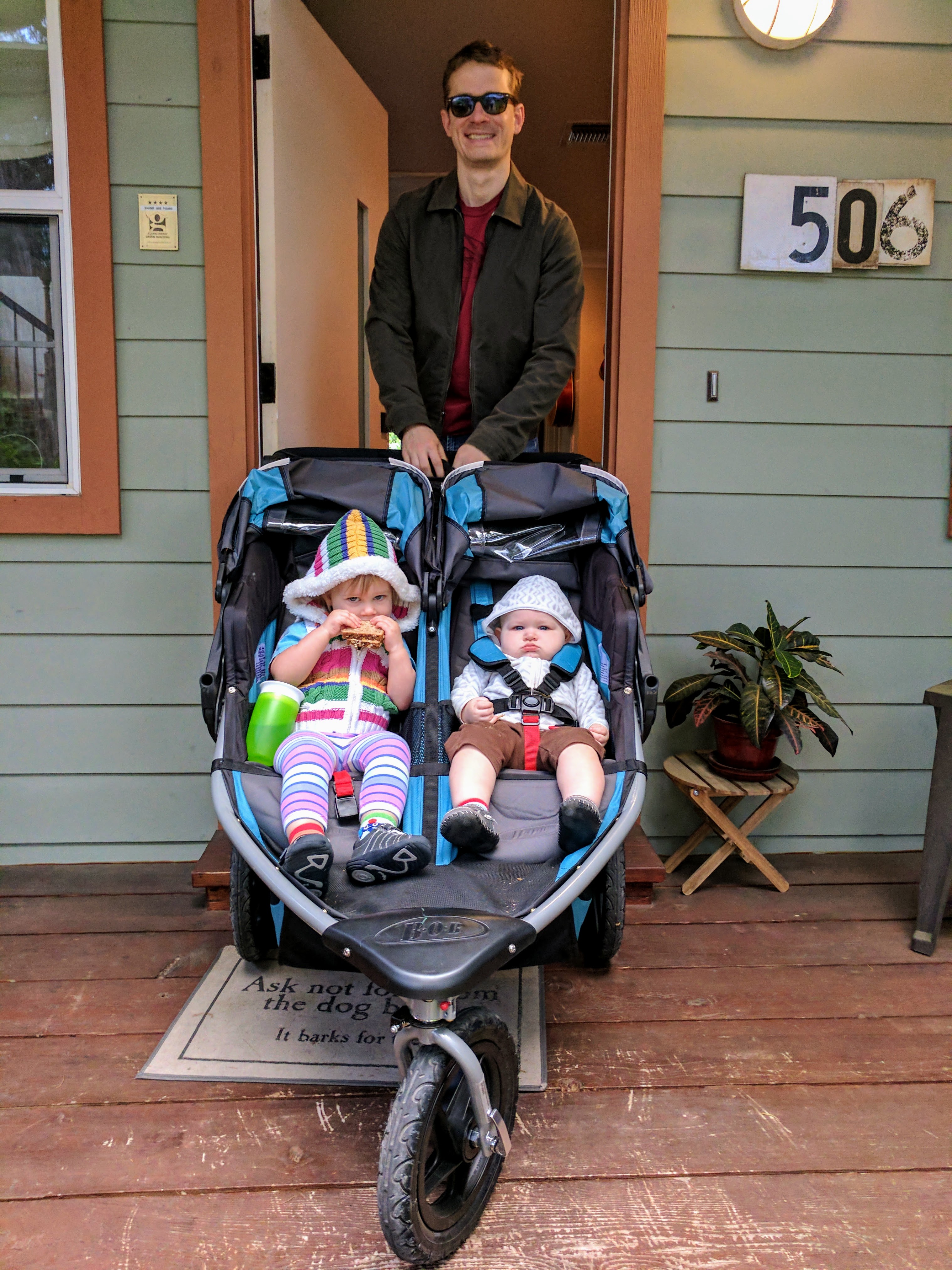 We took the stroller on long walks, most usually a 4-mile loop from our house down to the trail boardwalk, through Auditorium Shores, then back up to our favorite breakfast taco place, Mellizos (RIP). Here's a Strava track of a typical walk
We joked that the stroller is like an SUV: huge, unwieldy, aggressively inconvenient to fit places and park. But so convenient, with huge cargo capacity. We trained our kids to sit in it for hours while we engaged in all sorts of activities and in all weather. Caught in the rain with the Crowders and their own double-BOB on the trail, June 2017: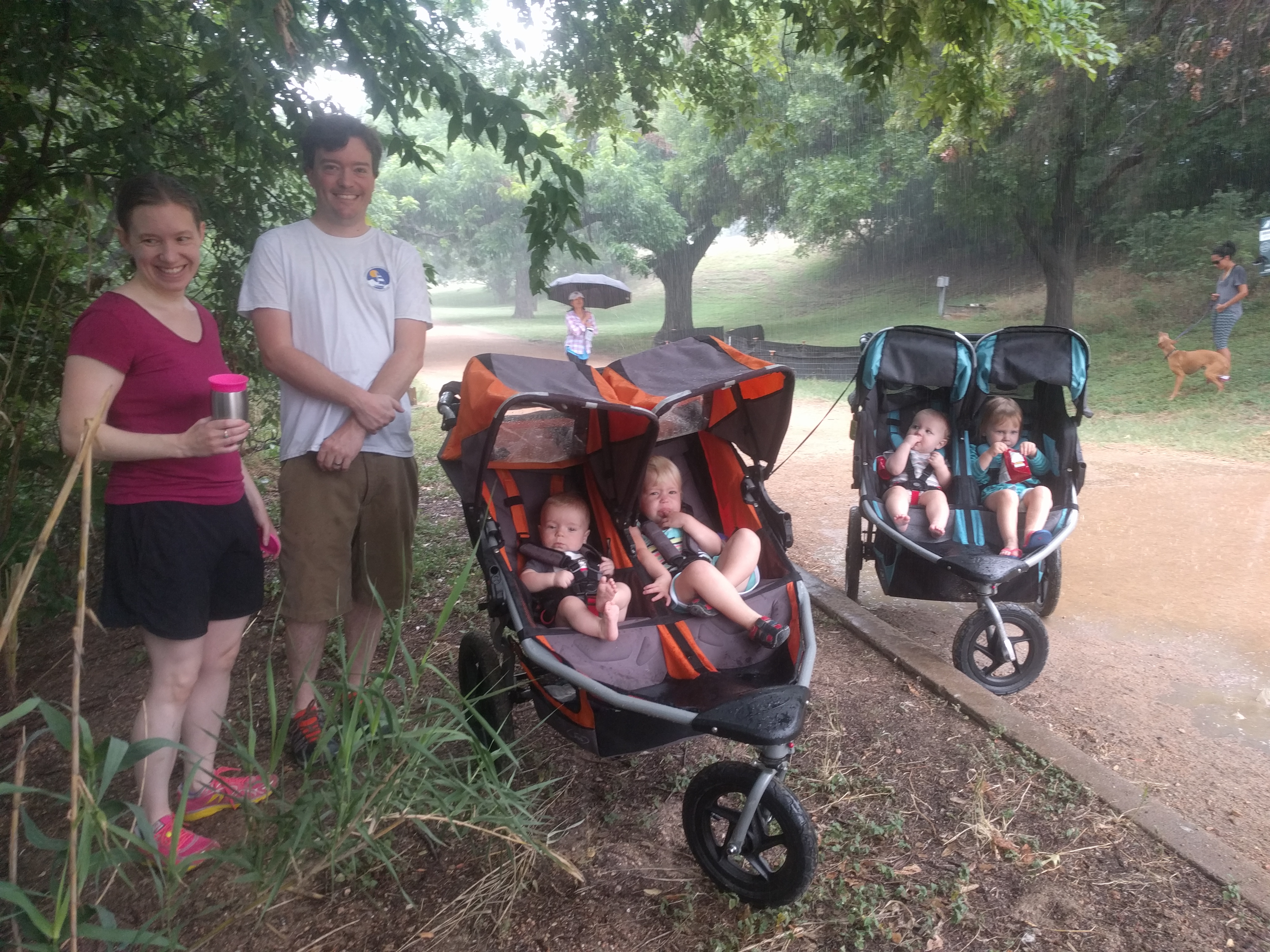 Attending some light protesting for health care on the UT campus in the early Trump years, with my parents gamely pitching in: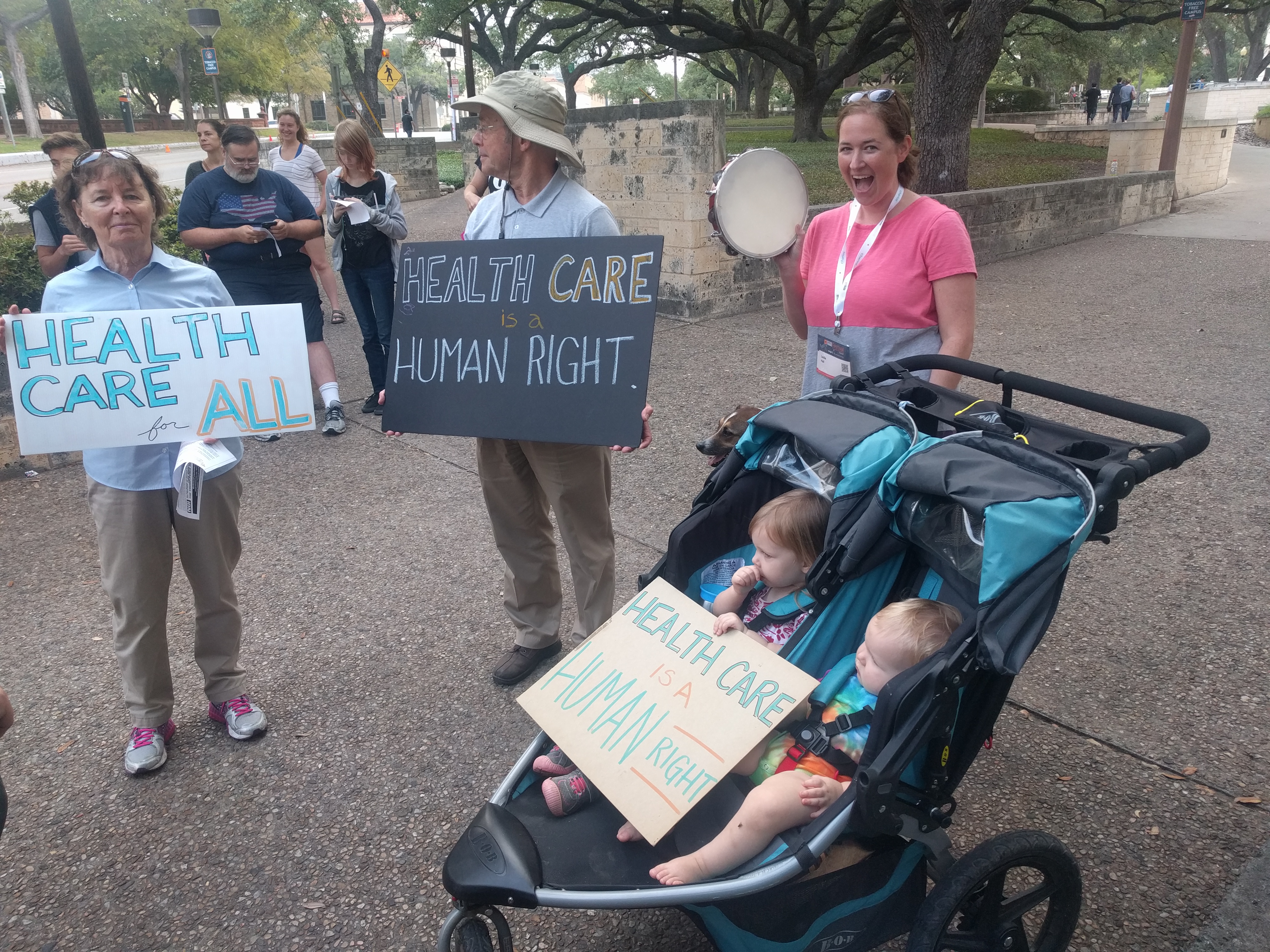 I ran behind the stroller a lot. By my estimate, at least 1000 miles with me jogging as I pushed–a great way to boost the effort. Here's a shot from a trail run near my parent's condo in Tabernash, July 2018: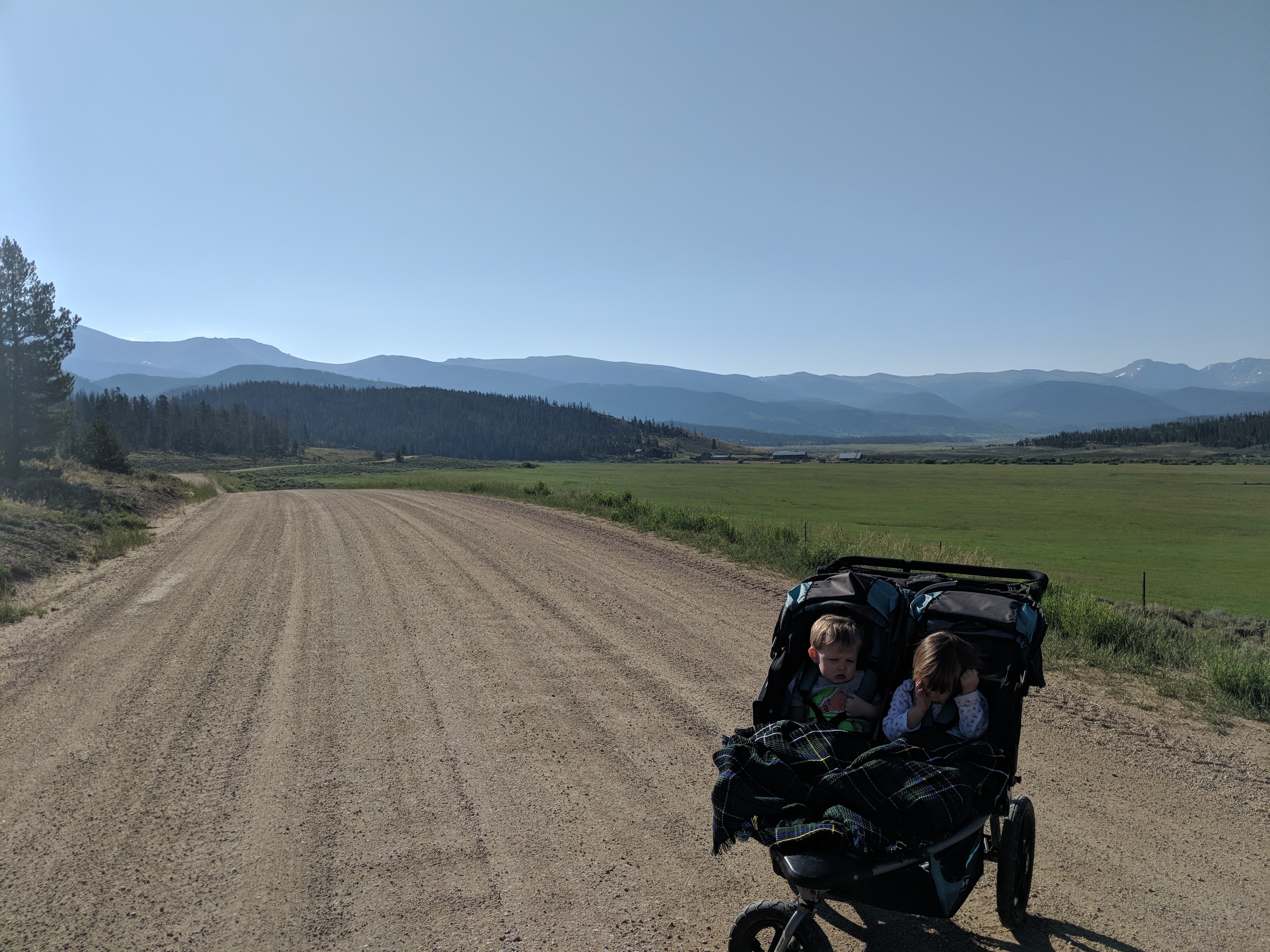 Here's an example of extreme cargo capacity as we return from the neighborhood pool, July 2019: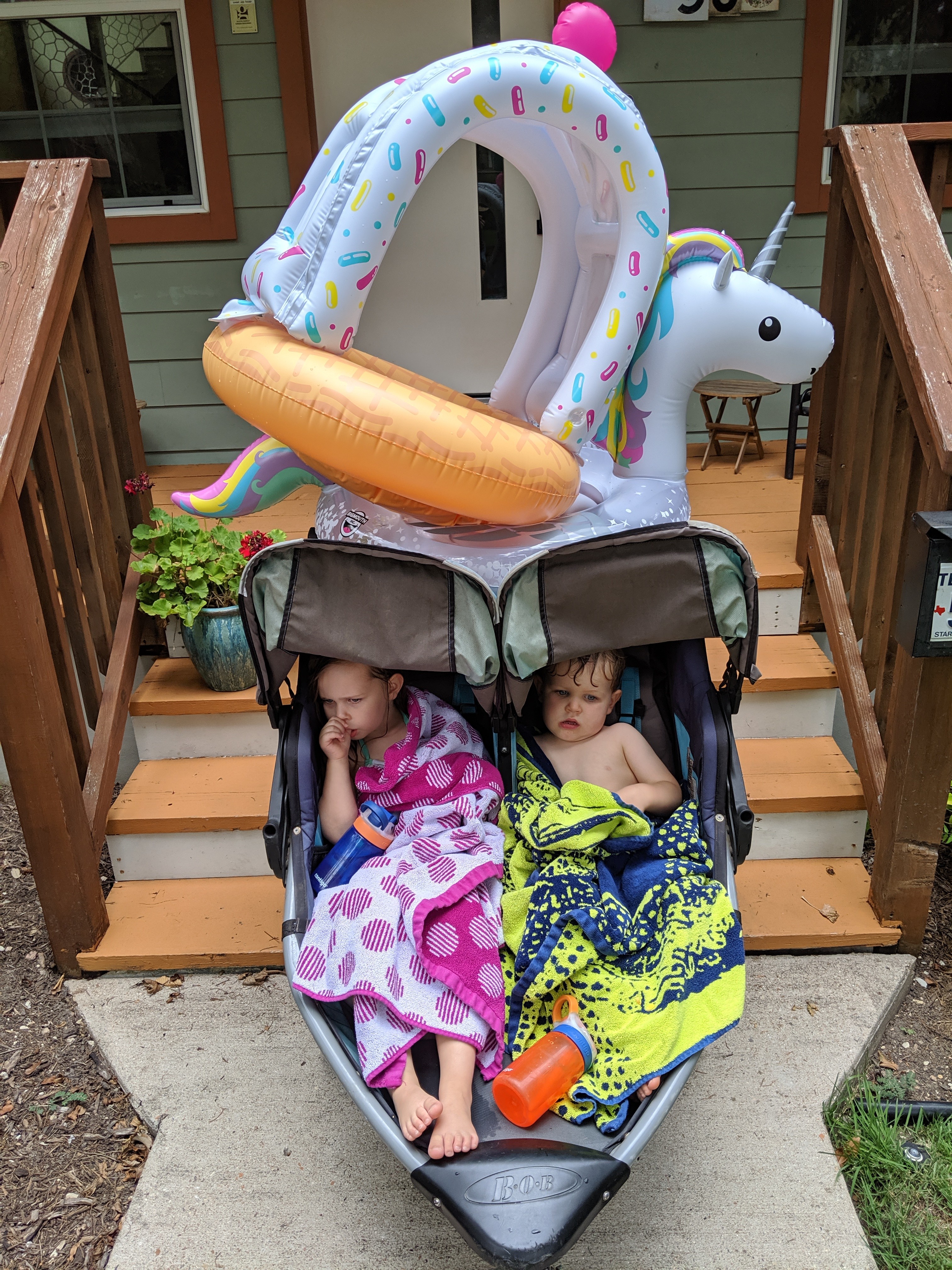 A key activity in later Stroller Years was the Donut Run, where Dad, eager for Sunday morning exercise, would bribe the kids into an hour and a half of sitting in the stroller by stopping at Howdy Donut (later Master Donut 2) on the way to a ~6 mile trail run. Here's we are on a representative donut run from October 2019: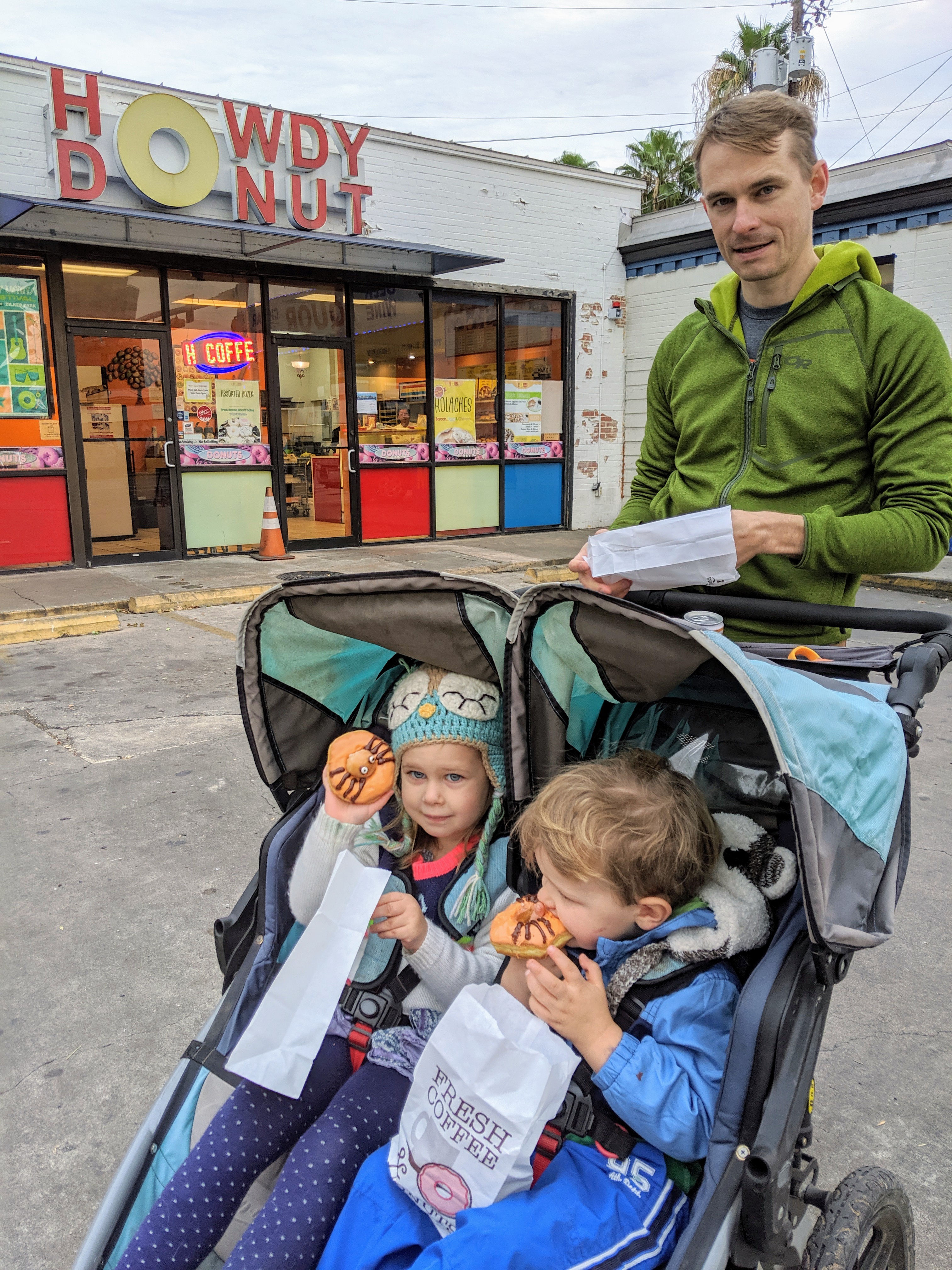 Trail of lights, December 2019: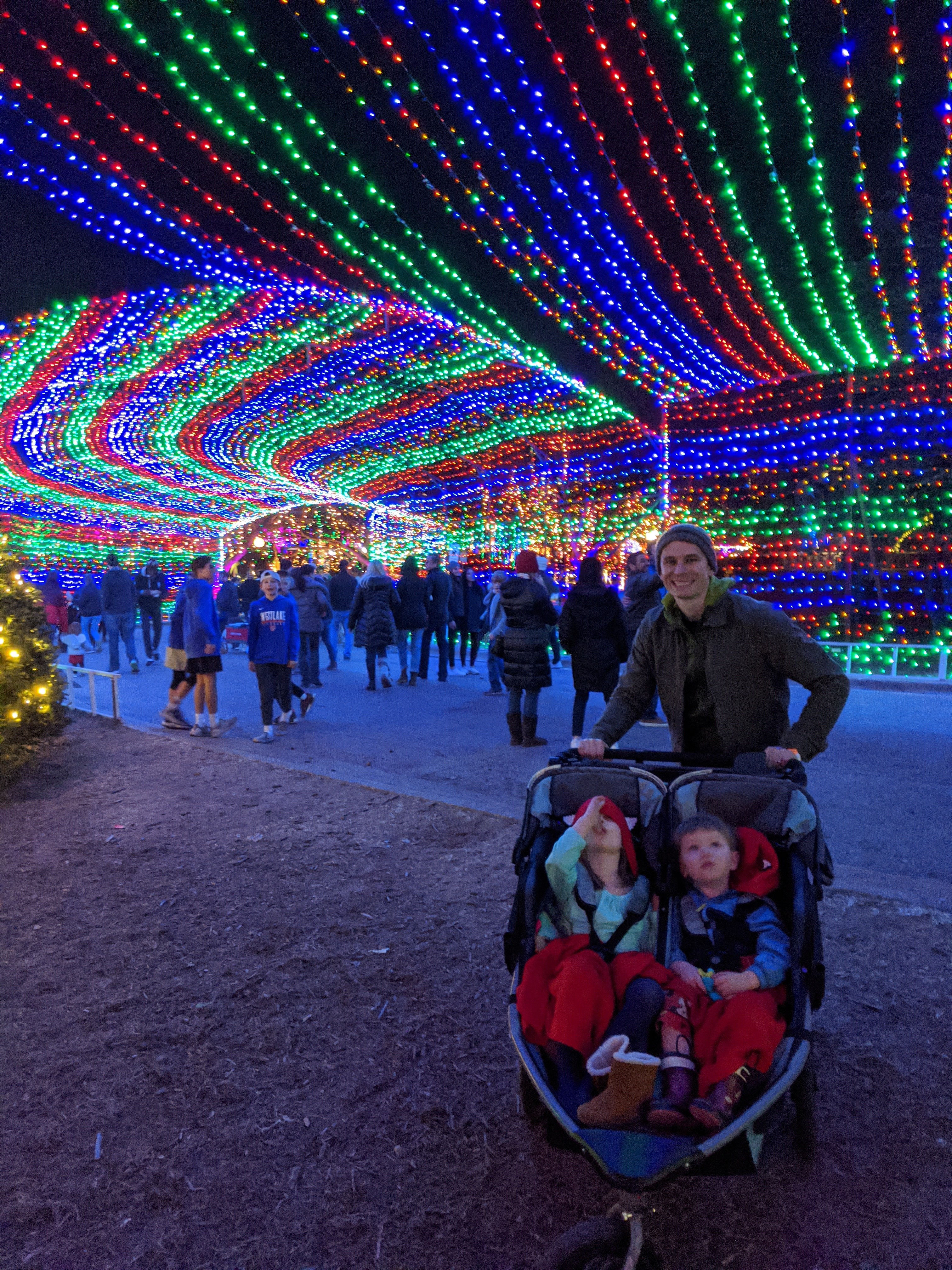 One of the stroller's great assets was its tube rubber tires that could cover lots of ground. You did have to occasionally add air or replace a tube, but no problem with help like this (July 2020):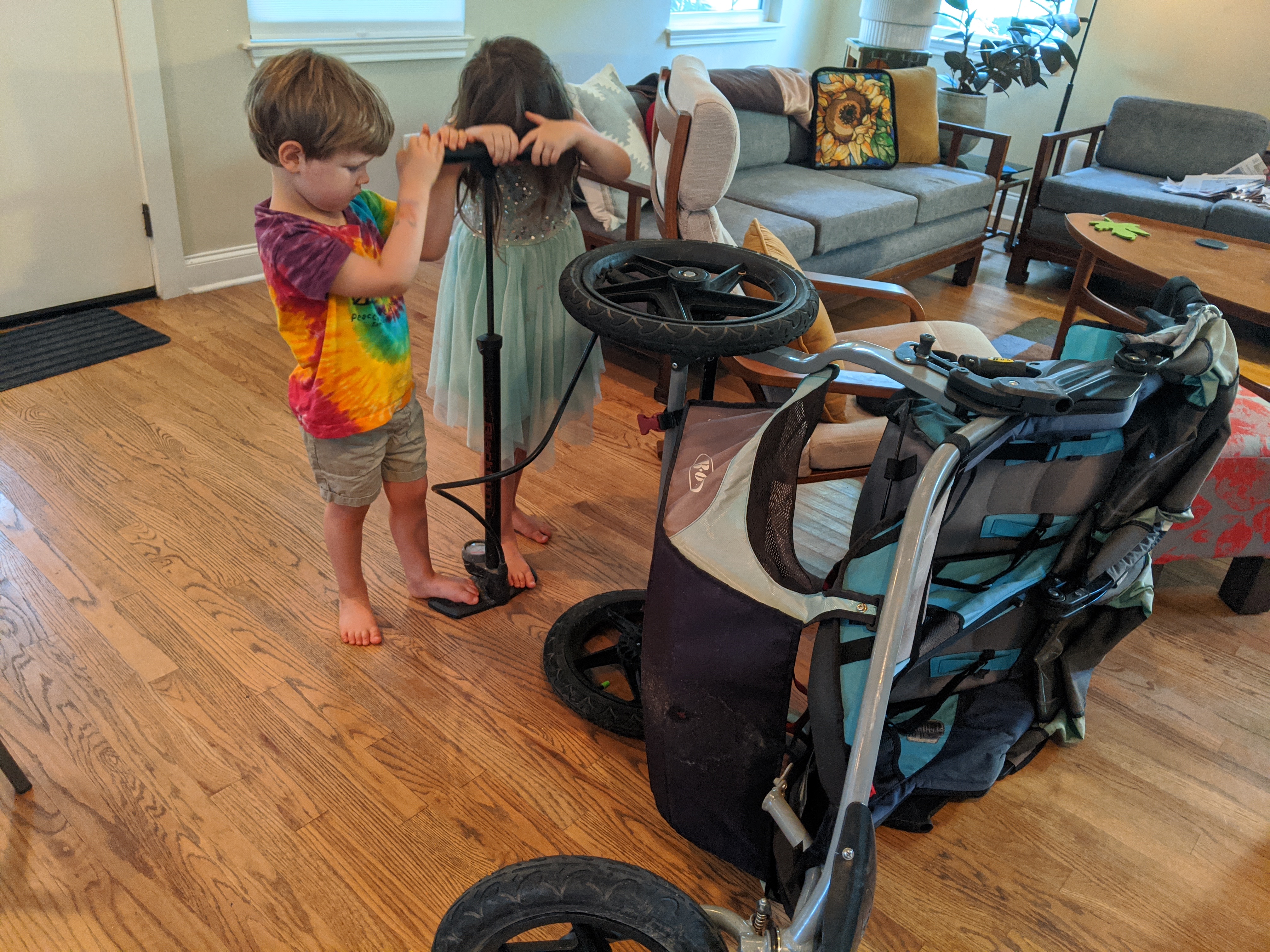 One of our last great adventures in the stroller came this summer when Dan walked the entire length of the Hike and Bike trail with me on a very hot summer day. Here we are crossing Barton Creek about 8 miles in, June 2021: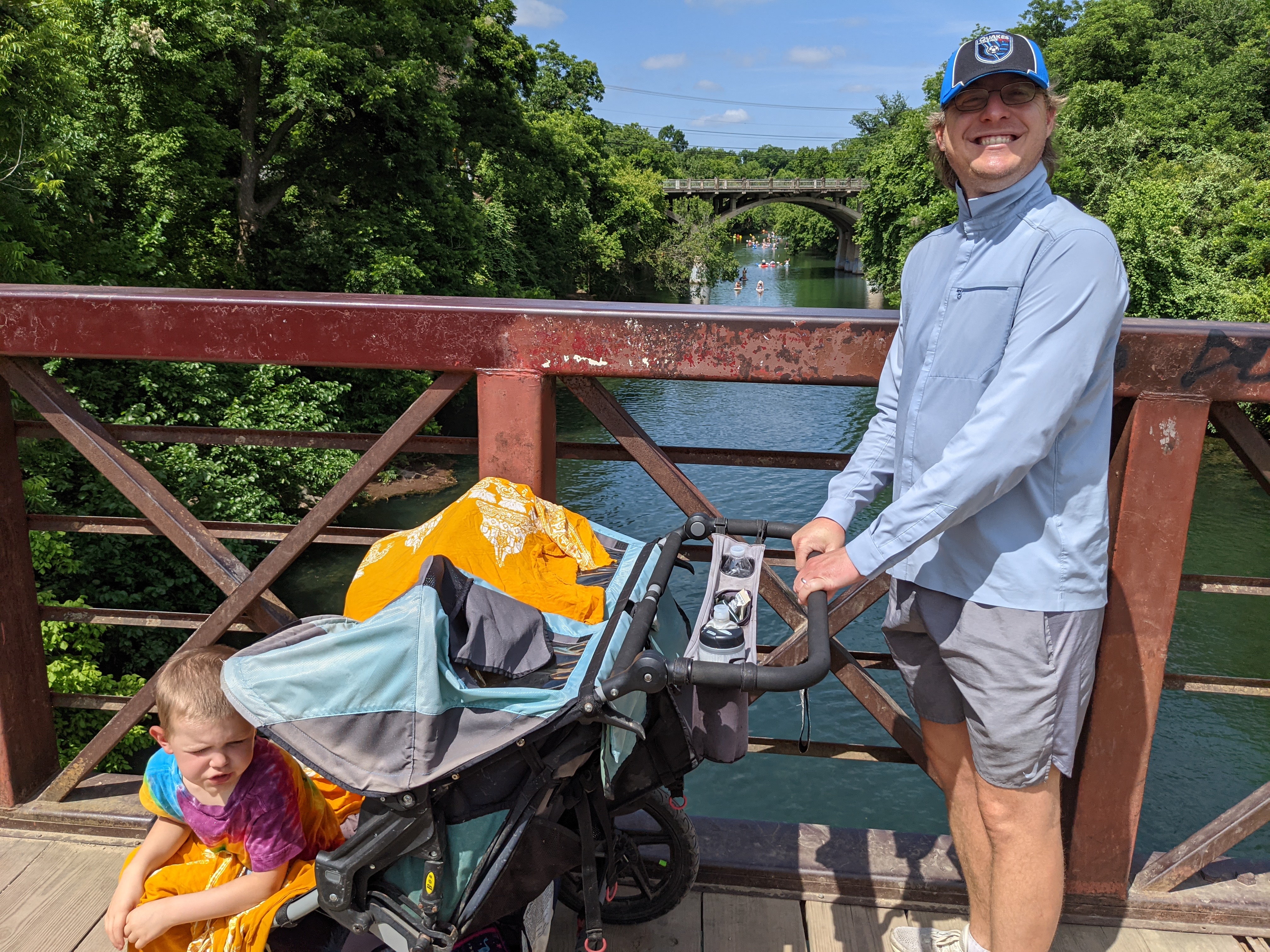 To commemorate all the good times on the trail with the stroller, we donated a brick to at Lakeshore Park, which was installed in June this year: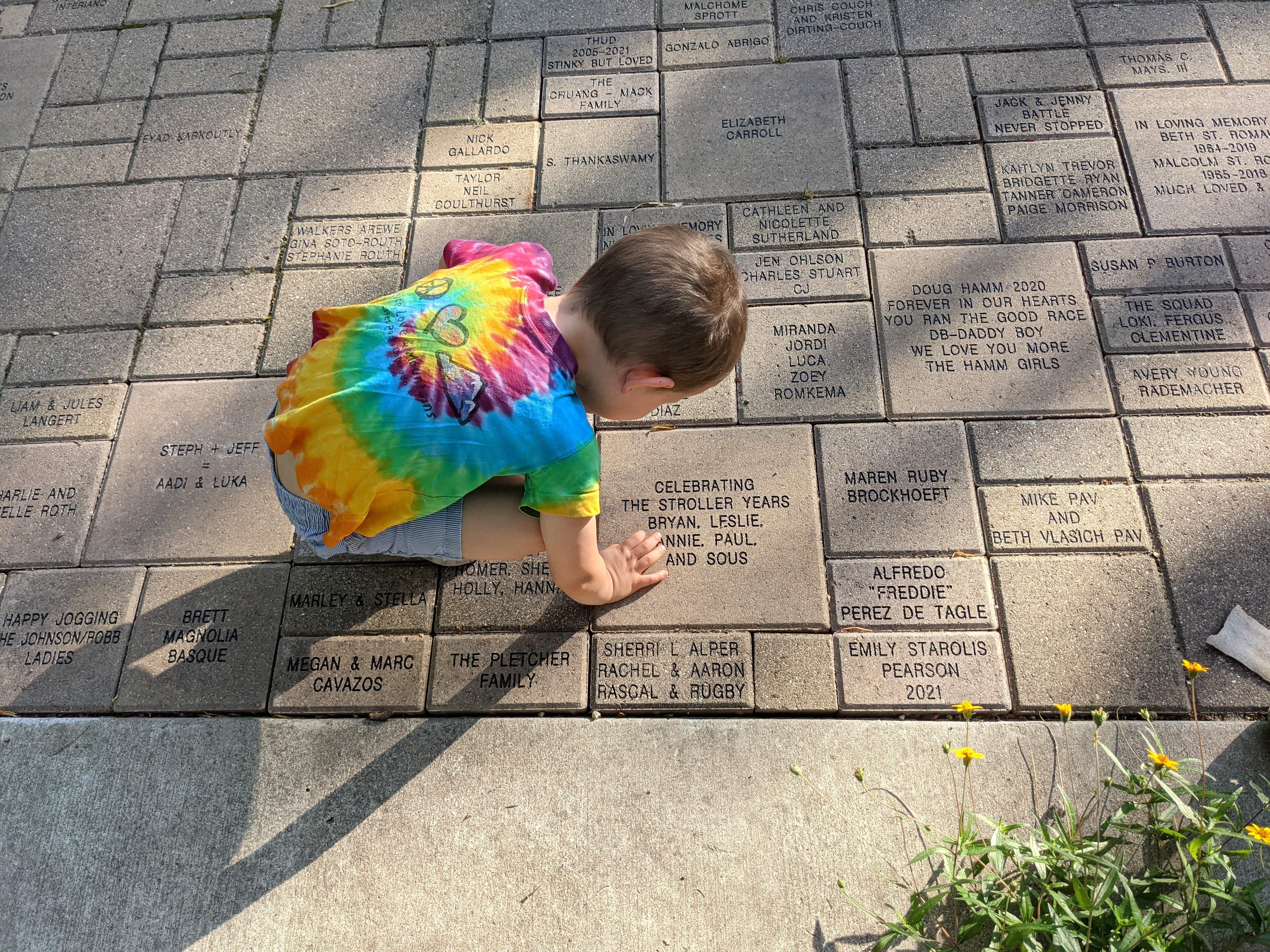 We decided this summer that, at 6 and almost 5, it was time to focus on getting the kids to move their own bodies around, rather than continuing to rely on the stroller for our adventures. We quit cold turkey in July, and after a few months of sitting idle, I decided this morning was the day to give away the stroller. A bittersweet moment! I had the kids climb aboard one last time, November 2021. Farewell old buddy.