When we first moved into our apartment, I had a lot of empty time to fill in the days while the job search was warming up (okay, let's be honest, I still have a lot of free time, but at least I occasionally go out for an interview now). Anyway, because I'm not a very patient guy, and I probably had at least a few weeks of waiting around doing basically nothing while trying to get a job, I decided to try to grow a bansai tree from this tiny little kit that Leslie had.
I opened the book, and it said the first thing that you should do is to soak the seeds in water for 24 hours. Now, for me, this is a real problem, because I don't like to wait 24 hours for something interesting to start happening. But, in an effort to teach myself some patience I buckled down and soaked them. After a day, I looked in the book for the next step and was appalled to discover that next I was to stick them in the fridge in a damp paper towel for seven days. That is an unbelievably long time.
But I did it anyway. After seven days, I took out the seeds, soaked the peat that came with the kit in warm water, and put the seeds and the dirt in the impossibly small pot provided to grow the tree in.
More than a week passed, and there was no sign of any life in the little pot, except for the mold that grew because I dutifully kept the soil wet.
Then, finally, a few days ago a little stem thing started to push out of the dirt, and now there is a very very small pine tree that's starting to grow: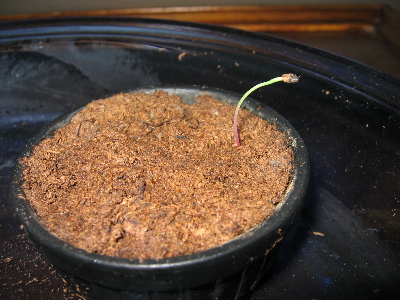 And so this week, I think I'll get a job.